Service and Outdoor Education
Wealth of extra-curricular activities
The Outdoor Education programme involves all students from Shell (Year 9) to Upper Sixth.
The Duke of Edinburgh Award Scheme, and a wide range of activities, is available to all. These include the Combined Cadet Force, Community Service projects, Year 12 skills programmes every Tuesday and Outdoor Pursuits during Games sessions. We also have year group off-site activity days.
The Canon Club
Members of this literacy society meet with authors from backgrounds not heavily represented in the GCSE and A-level English syllabus. The society encourages reading for enjoyment and aims to diversify the curriculum.
Crest and STEM Awards
Students design their own scientific or engineering project and then work to find the solution through research and experimentation.
Hurst Engineering Scheme
The Hurst Engineering Scheme was launched in 2021 by Hurst's Head of STEM, Amanda Jayne. The scheme invites companies free-of-charge to provide projects and work alongside teams of students. In the first year the scheme secured sponsorship for three teams and students met with their mentoring engineers at Hurst to design and present an engineering solution to a real-life project.
Model United Nations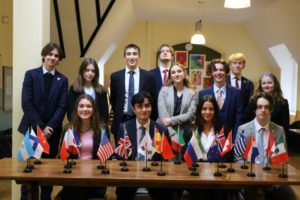 Model United Nations is a simulation of the real United Nations organisation. Students learn about the work of the United Nations and how political support for ideas is gained and resolutions formed. Teams attend domestic and international conferences, representing different nations on a variety of committees. Students from across the world come together at these conferences to solve the current major political matters. These can range from resolutions aimed at combating rising flood waters, the use of drones in warfare and food crises, to issues of over-population and terrorism.
With every school being given one country or institution to represent, MUN is an extremely prestigious opportunity which is highly coveted by both universities and employers.
National Pool Lifeguard Qualification
Students train as lifeguards, developing a range of poolside and in-water skills, alongside first aid training, as they work towards their nationally recognised NPLQ.
For more information visit rlss.org.uk
Oculus
Oculus, the school magazine, is written, edited and produced by a student team.
Sports Leaders Award
The Sports Leaders qualification is a national scheme designed to use sport and physical activity to help young people develop their leadership skills whilst helping themselves and others stay physically active.
Qualifications on offer are Sports Leadership at Level 1, 2 and 3. The Level 2 Qualification in Community Sports Leadership (CSL2) is recognised in personal statements and the Level 3 Qualification in Sports Leadership (SL3) carries UCAS points.
More information can be found at sportsleaders.org
Young Enterprise
Young Enterprise is a national competition when students (in the Sixth Form) set-up and run their own student company. They make all the decisions about their business, from deciding on their company name and product to managing the company finances and marketing.
Teams compete against other schools in local and regional competitions and are able to promote and sell to the public through pop-up shops and the YE Trading Station online store. The overall aim is to making a profit and secure awards at a regional and national level.
Through Young Enterprise students gain practical business experience which is a great addition for their UCAS Personal Statements. Hurst has a long and successful track record, winning awards at county and regional level.