Academic life lies at the core of the Hurst Sixth Form and is the central aspect of Hurst's all-round education. We hope that students will fully immerse themselves in the academic and co-curricular side of life so that they leave us as independent, confident and well-grounded individuals.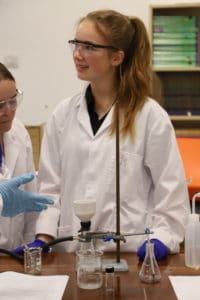 Hurst is an A-level school with a vast array of subjects on offer. Most Hurst students study three A-levels, unless they are taking Further Maths or pursuing a personal languages interest. During the Lower Sixth year, A-level students also undertake an extended project qualification. The project includes elements that are taught and elements of independent research, which helps to prepare students for university life.
Britain's leading universities also expect Sixth Formers to independently pursue their intellectual passions outside the classroom, and Hurst is committed to providing each student with every opportunity for this. Students can attend and lead intellectual clubs and societies, listen to visiting lecturers, enter essay competitions, and teach their peers about their specialisms.
The guiding principle behind academic life in the Sixth Form is independence. Outstanding teachers, with small class sizes (a maximum of 16 students) offer expert and individual support and guidance, but students are encouraged at every step to develop the self-discipline and intellectual confidence that modern A-levels demand.