Sustainability
At Hurst we have a Sustainability strategy which aims to educate all members of the Hurst community about the need for environmental and sustainability practices. We want to ensure that all members of the Hurst community can make a positive impact on environmental sustainability within the local and global community. Students and staff are encouraged to play an active role in our school environmental and sustainability agenda in order to encourage behavioural changes and increase participation in environmental and sustainability issues.
We are currently defining and measuring the environmental impact of the College's actions and activities and have used our findings to develop a set of targets to reduce any negative impact on the environment. We monitor and update these annually. Our aims and actions so far are outlined below.
UN Sustainable Development Goals
The 17 Sustainable Development Goals (SDGs) set out by world leaders in the UN are the world's call to action on the most pressing challenges and opportunities facing humanity and the natural world. The Hurst community pledge to play a leading role in tackling them. Below are some of our targets under each of the 17 goals.
No poverty
Further fundraising activity for Italia Foundation and significant push of new fundraising activity focused on supporting the Ukraine Refugee Crisis.
Good health and wellbeing
To continue to promote staff and pupil wellbeing.
Find out more about our Wellbeing programme on our Wellbeing page.
Quality education
The newly formed Hurst Education Trust will support and enhance pupil education across all the academy schools in collaboration with the Diocese of Chichester.
Build on activities of the Climate Action Group and Sustainability Committee by increasing pupil involvement.
Gender equality
Continue to develop the uniform policy to ensure it reinforces inclusion and diversity principles.
Clean water and sanitation
Water saving devices installed across washrooms include PIR Taps and Urinal Sensors.
Investigate options to install further sustainable water sources for irrigation such as use of an existing well or new borehole.
Affordable and clean energy
Continue the rollout of BMS to remaining plant rooms and properties across the campus.
Identify opportunities to improve loft insulation, install further solar PV panels and ensure the whole College is using low energy LED lighting.
Decent work and economic growth
Encourage supplier and contractors to sign-up to policies that support the commitment to eradicate modern slavery, trafficking or exploitation.
Industry, innovation and infrastructure
Review options to provide additional energy for future kitchen upgrades from sustainable sources and compare with option for an additional substation installation.
Reduced inequalities
Continue to build on the work of the student and staff Equity, Diversity and Inclusion (EDI) group. The EDI group will also work with the recruitment team to increase diversity of applicants and remove barriers for applying.
Sustainable cities and communities
Electric vehicle charging points have been installed with a plan to install more in strategic locations across the campus to promote the use of electric vehicles.
Car sharing for staff will be promoted further to reduce individual car journeys to College.
Identify opportunities to link with further community groups to help build more sustainability and resilience.
Responsible consumption and production
Increase food recycling of kitchen waste in conjunction with food recycling charities.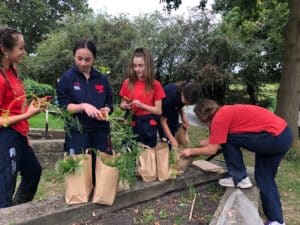 Identify opportunities to have all waste contractors on a zero waste to landfill with the next focus on mixed recycling and sanitary waste.
Further reduction in single use bottles/cups.
Climate action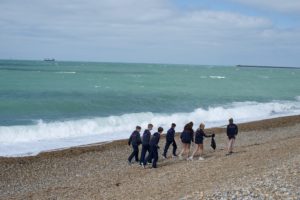 Approximately 200 new trees have been planted and we aim to find more sustainable locations for further tree planting on campus.
Student house eco-reps will be introduced from the start of the academic year in September 2022.
Various recycling and waste bins will be compulsory for all houses to encourage more composting and soft plastic waste collections.
Create a Shell (Year 9) Sustainability group.
Our Tuesday activity service group will teach more sessions based on the UN goals and increase off-site educational trips (e.g. beach cleans)
Life on land
Increase and develop wildflower meadow areas across school to improve biodiversity and habitat with the local environment.
Partnership for the goals
Create new links with schools and educational institutions to share best practice and promote sustainable development
If any current parents wish to hear more about sustainability strategies and wish to get involved then please contact Phoebe Lewis.

Equality, Diversity and Inclusion
The culture at Hurst is based on our EDI principles:
Equality
The fair and respectful treatment of all people.
The creation of opportunities and reduction of disparities in opportunities and outcomes for all staff and pupils.
Diversity
Recognising and respecting everyone's unique qualities and attributes.
Recognising and celebrating differences as strengths, not limitations.
Inclusion
Creating a welcoming environment where all feel valued, respected and represented.
Ensuring that no individual feels excluded from any area of Hurst life.