Welcome from the Head of Middle School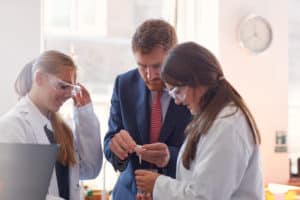 A very warm welcome to the Middle School at Hurst, where we guide pupils through their transformative GCSE years and prepare them for their transition into the Sixth Form.
Our comprehensive academic curriculum not only equips students for their examinations but also empowers them for life beyond GCSEs. Our youngest pupils, known as the Shell (Year 9), enjoy an intentionally broad curriculum providing exposure to as many subjects as possible before they choose their final GCSE options for the Remove and Fifth Form years.
Hurst pupils receive excellent teaching in top class facilities so they can realise their full potential at the end of their Middle School academic journey. Our bespoke Challenge Grade Review system motivates every pupil to strive for their personal best.
Pupils are encouraged to explore beyond the boundaries of the curriculum through our enrichment programme. This programme introduces pupils to intellectually stimulating topics such as 'The Chemistry of Change', 'Dystopia vs. Utopia', 'Animate' and 'Investment & Stock Markets' allowing students to broaden their horizons and think critically without the pressure of exams.
Every pupil experiences a truly 'all round' Hurst education. Our vibrant and hugely varied co-curricular programme offers a multitude of activities from Sports, Outdoor Education and CCF to creative options such as Dance, Drama and Music. Every pupil, regardless of prior experience or ability, is fully encouraged to get involved in everything that Hurst has to offer. Our motto, 'no-one on the bench,' underscores our commitment to engagement. From traditional team sports to adventurous pursuits like climbing, sailing, mountain biking and archery, every student has the opportunity to explore their interests and passions. We believe in nurturing well-rounded individuals who embrace challenges.
The Hurst community lives up to the mantra 'work hard, do good and engage'. Having run a boys' boarding house myself, I have seen first-hand how diligent our pupils are in their studies and also their willingness to throw themselves wholeheartedly into the amazing opportunities on offer at Hurst. Pupils also enjoy opportunities to relax in high quality boarding and day houses. Our houses provide a nurturing environment where friendships flourish, and students are cared for by dedicated tutors and Houseparents. Having been part of the Hurst community for some time, I can attest to the exceptional pastoral care we provide. Ensuring that every student feels welcomed, respected, and valued for who they are is at the core of what we do.
I would be delighted for you to visit Hurst and speak to our pupils, who will tell you what makes this place truly special. Our beautiful campus and exceptional facilities are certainly impressive, but it's the people – the warm and supportive community – that make Hurst unique.
Owain Jones
Head of Middle School
" Our beautiful campus and exceptional facilities are certainly impressive, but it's the people - the warm and supportive community - that make Hurst unique. " Owain Jones, Head of Middle School
Life in the Senior School