Digital learning
Every student ready for the digital world
At Hurst our priority is clear when it comes to technology and education, and that is to ensure every pupil is well prepared for the digital world and has exposure to digital learning both inside and outside of the classroom.
Online services
After looking at the major cloud providers on the market the College made the decision to implement Microsoft Office 365. This platform enables students to progress academically and have all the necessary tools and resources available 24/7. Not only does the service ensure students have the consistency at School and home, but it also prepares the students for the professional world of businesses. The Microsoft 365 suite of applications includes several different online services, including Office Professional Plus, Exchange Online, SharePoint Online, Teams and a lighter version of Office Suite, presented as Office Web Apps.
Equipment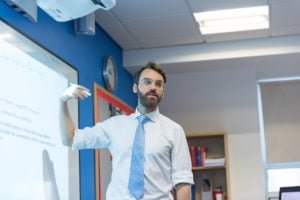 Continuing the Microsoft hardware theme across the college, there are a number of Surface Go devices available for Senior Prep pupils to use. These are smaller versions of the Surface Pro used by Senior School students. Utilising apps and similar software, pupils use Hurst Online to access files and lesson resources.
We encourage our pupils to develop core digital skills throughout the curriculum, and staff also have regular IT insets which pass through the college.
When students join us in Year 9 (Shell), they each receive a Microsoft Surface Pro to ensure they have the latest technology at their fingertips. Not only is the Surface Pro a useful laptop, it can also become a touchscreen device.
We encourage the use of Digital Inking, which is part of an exciting project Hurst is currently exploring with Microsoft. Students are encouraged to bring their Surface Pros to all lessons as with the integration of interactive whiteboards and docking stations, they can share their work through their teachers' whiteboards.
Hurst Online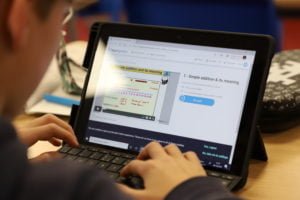 Our pupils have 24-hour access to Hurst Online, a bespoke cloud-based network which runs on Microsoft SharePoint, where useful resources such as revision packs, past exam papers, classwork notes and prep information are stored. In addition, school announcements and documents such as prep timetables are posted here. Hurst Online also brings together the use of Microsoft Teams, which is fundamental to how classes can communicate and share resources. Hurst was one of the only schools to host internal exams via Teams, a success story that has been explored further by Microsoft.
This thoroughly tested and researched use of technology ensures that pupils and staff are able to utilise software and hardware, to ensure the very best educational provision.
Digital literacy
Digital literacy is an important part of education and business and our pupils are encouraged to learn skills in Microsoft Excel and Word through lessons and tutor sessions. Expertise that can be used in the corporate world – such as constructing professional emails, setting up meetings via Outlook and using excel for financial tracking – are all part of school life. Within our tutorial programmes, all pupils are expected to communicate online and will have training sessions on the use of Office software.
Digital Learning Team
To ensure the continuation and development of technology use throughout the college, a Digital Learning Team was formed. The Digital Learning Team offers training to staff and research technology that can help in the education of pupils via the digital world. The Student Digital Learning Team enables pupils to have a voice for what technology they would like to see within the college. They also enjoy trips to Microsoft's headquarters and experience new immersive technology.