Hurst is a very friendly and warm community with a genuine family feel, particularly apparent in the houses which are key to the school's structure. It is their base, providing a place to work, socialise and, if boarding, a place to sleep. It is where they spend their leisure time and meet most of their friends. It is where they keep their clothes and change for games. It is, in short, where they live – their home at school.
Houses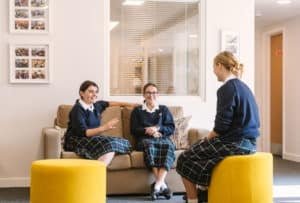 Hurst has twelve conventional boarding (three boy/three girl) and day (three boy/three girl) houses and St John's, an Upper Sixth Form co-ed house. Houses are led by a Housemaster or Housemistress, supported by House Tutors (and a Matron in boarding houses). All boarding Houseparents live in. The house staff monitor each pupil's academic performance and provide pastoral care supported by the Deputy Head Pastoral, and Director of Safeguarding as necessary. To help house staff with the day-to-day organisation, there is a House Captain, a number of house prefects and also House Guardians who are available to offer extra support.
All houses have their own kitchens, with fridge and cooking facilities for snacks, and the school supplies fruit, bread, butter and milk to help satisfy growing appetites. There are also games and TV rooms, creating a friendly, relaxed area for pupils to unwind.
Inter-House competitions
Inter-house competitions are organised for Rugby, Hockey, Cricket, Athletics, Netball, Cross-country, Swimming, Water polo, Tennis, Music, Drama, CCF (Combined Cadet Force), Top House, a variety of indoor sports and for effort in academic work. Points accumulated in these various competitions count towards an overall House Cup which is awarded termly. All houses hold a number of social events.
Boarding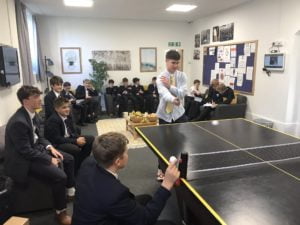 The Hurst boarding community falls into two categories:
Flexi boarding: Pupils can choose to board on any three nights each week, which can be changed on a weekly basis, while retaining their same bed and study desk throughout the term. As all pupils participate in co-curricular activities many find this particularly beneficial, as do parents who need to juggle a busy lifestyle.
Weekly boarding: Pupils board five nights a week (Sunday to Thursday or Monday to Friday) removing the stresses of a daily commute and allowing more time for co-curricular activities and study.
View our Day in the life of a Hurst pupil infographic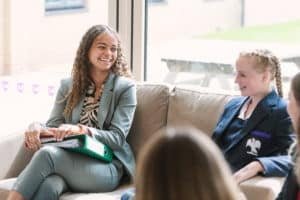 Lower Sixth Form
The Lower Sixth students are very active as the house seniors, taking on roles as prefects or running an aspect of house life. They lead teams and act as role models for the younger pupils. They wear suits rather than the standard school uniform, and enjoy a number of privileges, including more choice in organising their free time and periods of independent study.
St John's House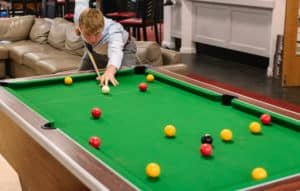 St John's House is the co-educational Upper Sixth Form house and social centre. A modern hall of residence style building with over 170 individual study bedrooms, it accommodates all members of the Upper Sixth for their final year at the College. It not only provides an academic environment for students, but also prepares them for the challenges of life at university and the world of work beyond the school. It has a number of social areas including a dance floor and an inner quad for entertaining. The Upper Sixth work closely with staff in the day-t-day running of the school, overseeing discipline, chairing pupil committees and coaching younger pupils.
The Guardian System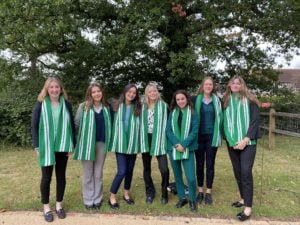 The house guardians meet regularly to discuss social relationships in the house and around the school. There are three guardians in each house and they are given training in communication, listening skills and conflict resolution. Guardian year group meetings are held regularly with the Chaplain.
The School Guardians Group acts as a think-tank to ensure that the guardian scheme operates smoothly, and to recommend changes as and when required.
The Medical Centre
The Medical Centre provides full medical care for boarders and first aid for all pupils. It is staffed by a team of qualified and experienced nurses.
" ​Whether in a day or boarding house, pupils develop a strong sense of house identity and loyalty. " House Ethos
Boarding Life

at Hurst video