Hurst College's Chief Operating Officer and former CCF Contingent Commander, Dan Higgins, looks at the benefits of being a member of the Combined Cadet Force
There are now more than 400 Combined Cadet Force contingents in secondary schools all over the UK, offering students a broad range of challenging, exciting, adventurous and educational activities. I firmly believe that CCF membership plays an important and fundamental part in a student's broader education.
Each Combined Cadet Force unit is a partnership between the school and the Ministry of Defence, and may include Royal Navy, Royal Marines, Army or Royal Air Force sections. The overall aim is to enable the development of personal responsibility, leadership and self-discipline.
I can think of only a few organisations that are able to offer such a huge range of activities under one umbrella as the CCF does. Not only that, but within a supportive and nurturing environment, students develop the skills and self-confidence to take charge of their lives and to reach their full potential throughout their school years and beyond. They also develop a sense of duty, teamwork, an awareness of right and wrong, persistence, determination, resilience and a respect for others.
The best nearest alternative is the Duke of Edinburgh (DofE) Award Scheme, which we run alongside the Combined Cadet Force framework using many of the core elements of the training programmes to support the volunteering, skills and service requirements for the DofE Award.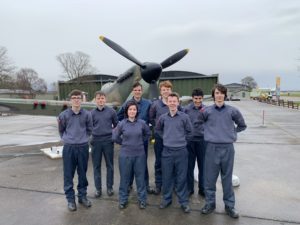 Cadets are provided with the necessary training and information to not only obtain and achieve nationally recognised qualifications, such as First Aid, but also experience opportunities normally unavailable through mainstream avenues. Whether this be as simple as understanding and appreciating life in the services, military history, structure, discipline and techniques, or learning to sail, fly, shoot or survive, there really is something for everyone within the structure.
A typical weekly programme includes a parade before cadets disperse for their afternoon's activity. Guided by cadet force adults, most of whom are teachers, the senior students (NCOs) are given the opportunities to lead and instruct the junior cadets. Throughout the year there are a range of external activities, field days, service weekends and camps where cadets can engage in national competitions, make and build friendships outside of their daily peer group.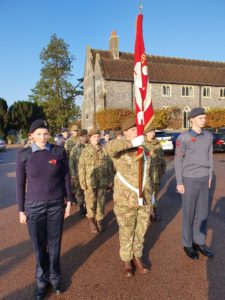 Although Combined Cadet Force contingents exist within schools, they also play an important role in the community. In many cases, CCFs will be the public face of the school at local events, such as summer fairs, county shows, mayoral engagements and Remembrance Day.
In the world outside of school, cadets bring great attributes and attitude to the workplace. Being in a cadet force helps students to develop a whole host of important life skills, including a level of maturity, self-discipline and respect that they would not otherwise possess at such a young age.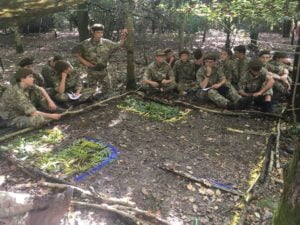 When I reflect on my 24 years in education, 20 of those attached to the CCF, I would categorically and proudly say many of the best moments have been witnessing cadets participating in experiences that will remain life-long memories for them. Whilst only a small percentage may go on to a career with the MoD, the skills and opportunities they can learn in the CCF, outside of the classroom, will undoubtedly prepare them for life.
Combined Cadet Force at Hurst
Hurstpierpoint College OTC was one of the first five cadet corps in the country, formed on the 18th June 1860, for fear of a French invasion. By 1862 the all-male corps at the college was 140 strong and well organised.
Now, with one of the largest contingents in existence, it is a slightly different machine, but with over 300 cadets – boys and girls – is still a formidable operation. Hurst has three sections – Army, Navy and RAF – each with their own training programmes. The CCF is compulsory in Year 10, where pupils opt for whichever of the three services they prefer, and is then optional in subsequent years up to the Sixth Form. The high number of students who opt to continue says much about the significant and valuable experiences on offer.
Please follow the links below for further information about Hurst College, an independent, co-educational, day and flexi/weekly boarding school for pupils aged 4–18, located just to the north of the village of Hurstpierpoint, West Sussex.
Prep & Pre-Prep
Senior School
Sixth Form
Admissions
College Campus
Facilities
Hurst College's inspection reports and reviews:
ISC Inspection reports
Good Schools Guide
Muddystilettos.co.uk