A brilliant day of netball at the Sussex round of the National Schools competition last weekend, saw three teams qualify for the regional rounds. 
U14 
This year our U14s were up against an unusually small number of teams which meant that we felt it was right to take a smaller squad to the competition.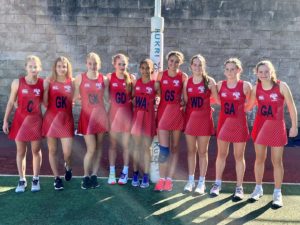 The first match was against Burgess Hill. Our girls were quick out of the blocks scoring a mighty 18 goals and only conceding 4.  The following games against Ardingly and Brighton pushed us a bit more.  Defensively, both teams were after us and they denied us space from the outset, which meant we had to work harder for the ball.  It was good for us to have some tougher competition; all good preparation for the next round.
All in all, an impressive run out, not dropping a game, scoring 78 goals and only letting in 19.
U16 
A fantastic display of netball was put on by the 16A team on Saturday. A busy hockey term has meant we took opportunity of any small windows of training we could use to prepare. The girls were focused and prepared for a long day of netball. The first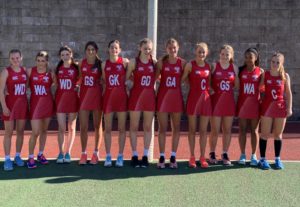 couple of games saw us playing some good netball and remaining composed under the post to take convincing wins against Lancing and Burgess Hill. After a small break, we played Mayfield and started the game slowly with the game finishing 5-2 at half time. The girls re-grouped and refocused and came out flying in the second half to finish the game 14-2. Another strong performance against Seaford saw the girls keep their 100% record before coming up against Brighton. The girls started strongly and never looked back, slick passing and accurate shooting saw the girls take another win 21-7. The team remained focused to take the final three wins against Eastbourne, Ardingly and Roedean. A brilliant day with the team scoring 141 goals and conceding 26 – a testament to our whole court defensive pressure.
For the third time Hurst have got three teams through to the regional finals, however it was a Hurst first getting all three teams topping their groups without dropping a game.
U19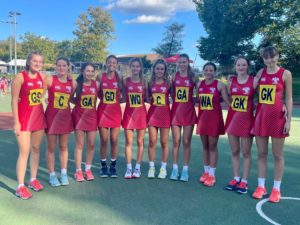 The County round of the National Schools is always a big day in a hockey dominated term. The U19s had the biggest draw, and we prepared the girls to play 13 games. It would be a marathon and not a sprint and we needed to take each game at a time.  Tournaments are always unpredictable and exciting! The squad had three matches before one of our biggest rival games against former champions Worthing College. We secured three comfortable wins against BHASVIC, Lancing and Sackville before this match up. Worthing was game number four, and we went all out from the first whistle feeling comfortable with a 9-2 lead at half time. Not complacent we pushed on and secured a 18-10 win to take some pressure off. Next up was Mayfield which we won convincingly before going straight into the Brighton College game that we knew would be tougher than Worthing. 4-4 at half time, we needed a big second half; the girls were up for it and played out of their socks to take a win by 3 goals. With both big games in the bag, we needed to stay focused and play the remaining six matches against Seaford, Roedean, Ardingly, Eastbourne, Cardinal Newman & Bede's. The whole squad paced themselves throughout a hugely physical and competitive day! We were delighted to have not dropped a match and to be winners, having been runners up last year! The team spirit and energy from the whole squad was positive and we felt together all day. A much-deserved win for such a committed and determined group of girls.
To read more about Hurst Sport
" "This is the third time that all three teams have qualified for the national finals, and we are so proud of the girls' efforts - particularly as they have managed to qualify alongside a busy hockey term. A heroic effort by all involved." " Ellen Franks, Head of Netball