On Friday 24th February, Hurstpierpoint College was proud to be the host for the Southern Schools Book Award (SSBA) Presentation Evening for the second year in a row. Both Hurst librarians are on the committee and were excited to see which of the 5 shortlisted books had won.
Aimed at Year 9, Pupils from 30 schools who had voted for their favourite were attending the event, from as far away as Hampshire and Kent. We were also joined by all our neighbouring schools, such as Downlands, St Pauls Catholic College, Sir Robert Woodard Academy, and Burgess Hill Academy.
SSBA brings together a wide range of schools, both state and independent, all joined by a love of reading. We had a strong contingent of keen readers from Hurst attending: Gracie B, Georgina F, Esme H, Jessica Ha, Isabella H, Eleanor L, Dina M, Amelia S, Alex Y.
The shortlist was:
Afterlove by Tania Byrne
Green Rising by Lauren James
When our worlds collided by Danielle Jawando
This can never not be real by Sera Milano
All our hidden gifts by Caroline O'Donoghue
Each author was inspirational to both avid readers and budding writers alike: they were moving, heartfelt, and very funny. Tania Byrne described the protagonist of her book, a collector of the souls of the recently departed, as a glorified Uber driver. Lauren James talked about how she used the plant superpowers in her book to give her climate change story a more optimistic tone. Danielle Jawando discussed how her characters found a sense of community from their life-changing experiences. Sera Milano talked about how she managed anxiety and worry, which resonated with many in the audience. Caroline O'Donoghue talked about how she struggled at school and friendship issues, again something that the audience could relate to.
Alongside this, Chris Riddell live-drew the event. His drawings depicted the essence of what each author was saying. Several Hurst students commented that his drawing of Afterlove captured the sinister yet still romantic feel of the book.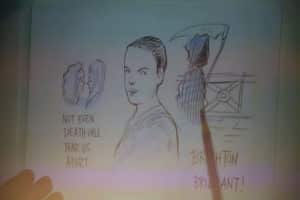 Sera Milano's Highly Commended award was greeted with much applause by the audience. Her book, a gripping portrayal of a terror attack in a British village, was a visceral read. The announcement of the winner, Caroline O'Donoghue, led to wild applause and cheers from the audience. Her story of a broken friendship and a malevolent pack of tarot cards was a worthy winner. Caroline gave an emotional speech saying "I've never won anything, ever!" and "What an amazing first award to win!". Throughout the event, Vincent was an excellent host, finishing the evening by saying 'it is an incredible evening; this place is special'.
Then it was on to the book signing, a high point of the evening for students as they loved getting their books signed by the authors, some getting all the authors to sign their SSBA goody bags. When Hurst students met Caroline O'Donoghue they were visibly moved, telling her of the profound effect the book had on them.
We had so many positive comments from attendees: "Our students LOVED the event" and "We had a two-hour journey there and back, but it was totally worth it." Parents have commented on how the book award had opened up new genres and authors to their children.
Overall, this is a very special event that promotes British Young Adult fiction which Hurstpierpoint College is very proud to support.