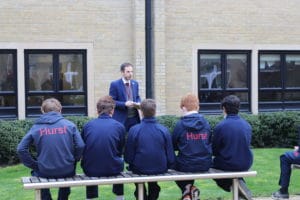 The College is buzzing once again as the pupils returned on Monday, after almost three months of remote learning, determined to make the most of the remainder of this term. There are sounds of excitable laughter coming from the houses, the thud of hockey balls from the AstroTurfs and a steady, vibrant hum from the Cloisters which characterises a normal busy day at Hurst.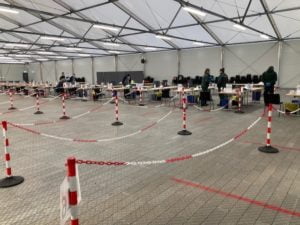 To ensure the campus was safe for the pupils' return, the initial round of Covid testing for all pupils and staff took place in the MUGA Dining Hall over the weekend of Saturday 6 and Sunday 7 March. With all pupils and staff testing clear, the vast majority of boarders were desperate to come back on the Sunday evening and enjoyed being allowed to meet up with friends for the first time in months. This also made for a smooth and efficient start to the working week on Monday morning, with pupils able to head straight into lessons without losing any precious teaching time.
Eager to make up for lost time, the normal timetable and structure of the week is in operation to enable pupils to return to the regular full programme of co-curricular activities, tutorials, assemblies, Chapel and all of the other elements of a well-rounded education. With pupils' mental health and wellbeing at the forefront, a lighter prep timetable has been introduced to give them the space and time to catch up with friends in the evenings before they return to a full workload. Boarders have enjoyed the earlier finish and have been out in force, throwing themselves into games, social events and activities organised by their Housemasters and mistresses in honour of their return. The term has also been extended by a day and a half to allow additional time for practical co-curricular activities, meaning pupils will head into the holidays with a real sense of purpose.
Before then there is a huge amount to pack into these three weeks, not least for the Fifth Form and Upper Sixth students who are fully focused on their forthcoming assessments. As these tests will form the basis of their teacher assessed grades for GCSE and A-level, the aim is to ensure that every pupil achieves the very best set of grades despite the circumstances. At the same time, the objective is for them to enjoy being back in school, surrounded by their friends, and looking ahead to a post-Covid world.
" It is set to be a lively, fast-paced, jam-packed sprint to the Easter vacation. And from there, we hope that a semblance of normality will return " Dominic Mott, Head of Senior School