Charlotte A, from Remove and Phoenix House, has been appointed as the Pupil Head of Diversity and Inclusion.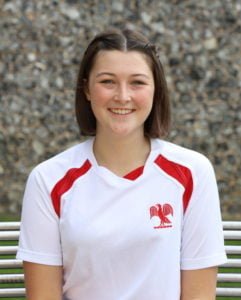 " Charlotte's application was amazing – just the sort of person we need to lead the student body in our Diversity and Inclusion campaign " Jami Edwards-Clarke, Director of Diversity and Inclusion
One of the first actions the Diversity and Inclusion Group wanted to take was to establish a logo which represented the key values and beliefs of diversity and inclusion at the college. The group decided to ask students to design a logo which they thought represented these aims.
The winners of the competition were Fleur Shell and Chevron Shell whose designs were then merged to create the official logo. The logo has many elements that signify different areas, the most obvious being the values and aims of diversity and inclusion surrounding a circle. The circle is drawn in rainbow colours to signify diversity and the circle represents a safe space and inclusion.
" I think this logo truly represents what we want, and know, the Diversity and Inclusion Group will represent at Hurst " Charlotte A, Pupil Head of Diversity and Inclusion