Music Technology has been a subject at Hurst since 2004. Originally introduced by Derek Austin in the smallest room in the Music School, it has been on quite a journey over the past 18 years. In fact, Will Carroll (current Head of Music Technology) was the first student in that tiny room!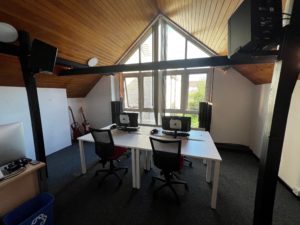 A few years later, the department had already outgrown its home and was moved to what used to be the instrument storage cupboard at the back of the Music School Hall. Windows were installed (angled perplex to reduce resonances), along with copper multicores, to both the hall and classroom next door. This allowed students to record from the control room in two rooms at the same time. Shortly after, the space expanded further into the loft of the same room, where three further workstations were installed, making a total of six. This was the home of Music Technology for many years, with small upgrades such as Allen & Heath mixing desks and digital multicores in the Music School extension.
New home
Over the summer, Music Technology moved across the Music School to the front of the building, above the main doors. There is now a separate classroom and recording studio which Music Technology students have access to at any time during school hours. The space is not only larger and more versatile, but there is natural light. The first drum recording sessions will take place shortly, using the classroom as a live room. A private space to record, with separate control room, is what dreams are made of for our student Music Technicians.
The studio is a fantastic space for students to work on their own music, and this is enthusiastically encouraged for those taking the subject at A-level. Former student, Bex Searle, recently released her debut album which was mixed and mastered in the new facility.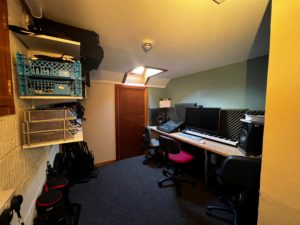 As a subject, Music Technology continues on an upward trajectory, and now with more space in which to expand. Current students are focusing on their coursework and preparing for upcoming school concerts, starting with House Music later this term, and more events to follow throughout the year.
Find out more about Music Technology at Hurst College
Learn more about Allen & Heath mixing desks